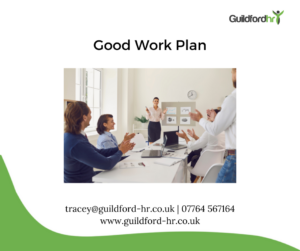 What are the expected developments in Employment Law?
Now your teams are going back to work in the office, we think the time is right to consider some of the next steps relating to the Good Work Plan and other initiatives. What does this mean for business, here are some of the topics being discussed:
The protection for pregnant employees' proposal is to extend the period of redundancy protection of a pregnant employee from the point she informs her employer she is pregnant until six months after her return from maternity leave.
A new right for all workers to request a more predictable employment contract will be particularly important for those on zero-hours contracts
The provision of a week's leave for unpaid carers.
The right to request flexible working from when an employee joins a business and not having to wait for 26 weeks.
Companies can prepare now for these changes and start a conversation, Guildford HR are a commercial HR service provider and can help your Business make practical steps now. Call us now on 01483 372732