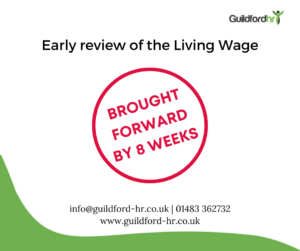 The Living Wage Foundation, which accredits employers who sign up for its voluntary pay scheme, is to bring forward the annual review by eight weeks to the end of September. This will result in pressure being placed on 10,000 employers to raise the rate of pay for those facing the financial squeeze being felt by 4.8 million low-paid workers across Britain who are being affected by the inflation rate of 9 percent.
Last year saw the living wage, voluntarily paid by 10,000 employers, rise by 4.2 percent across the UK to £9.90 and by 1.8 percent in London to £11.05. The larger rise seen outside of London was caused by the increase in rents outside of the capital. The legal minimum wage for 23-year-olds is now £9.50.
The Institute for Fiscal Studies has calculated that inflation for the poorest tenth of households is already running at more than 10 percent whilst for the richest, it is rising at about 8 percent.
There are fears that the living wage review may stoke inflation by higher wages. The Governor of the Bank of England has asked people, particularly those on higher wages, to "think and reflect" on whether they need a pay rise as this could fuel inflation and bring higher prices into the economy.
Household energy bills are at record highs with the price cap rising again in October, bills will have more than doubled in a year. Low-paid workers are hit hardest by inflation as they spend more of their household income on essential items such as food and energy.
Last week Rishi Sunak unveiled a £21 billion worth of measures giving every household £400 off their household bills, this will be partly funded by a windfall tax on oil and gas companies.
Contact Guilford HR if you want to learn more about these changes and how they affect your business: Contact Us